THE PROBLEM
ALZHEIMER'S DISEASE & DEMENTIA

is considered one of the most costly
diseases in developed countries. This
situation will put more pressure in the
health and care system to provide
solutions for the increasing demand. ICT
solutions (software and hardware) for
dementia patients are constantly being
developed, and the market is now flooded
with products that address these
people. However, they don't take full
advantage of the latest technological
developments, such as open data and
wearable devices, in order to help

(i) patients cope with their condition and
regain their autonomy inside and outside
their homes, and
(ii) carers to track the patients' activities
and health conditions remotely.
ELDERLY DEMENTIA PATIENTS

are having difficulty in performing their
everyday tasks such as taking a walk or
shopping. This usually confines them at
home, making them feel vulnerable, as
they increasingly rely on other people to
do things for them.

ON THE OTHER HAND

caring for a person with Alzheimer's
disease demands a significant amount of
time and energy, and can be both physically
and mentally exhausting. These
demands can bring significant levels of
stress for the carer and can affect their
overall quality of life including work,
socializing and relationships.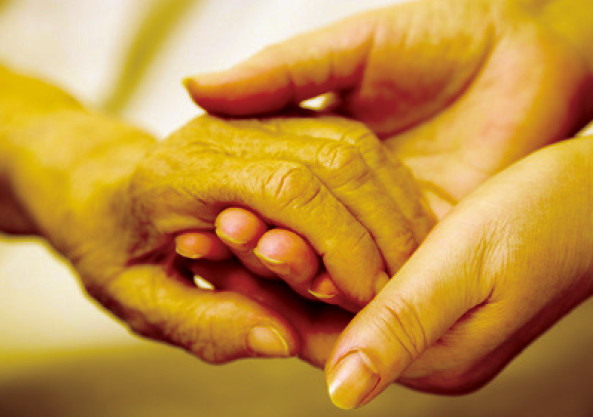 HOW CAN FLEX HELP

FLEX IS A NEW REVOLUTIONARY ICT
(SOFTWARE & HARDWARE) SOLUTION

FLEX ENABLES

People with Alzheimer's disease and
dementia to:
(1) continue performing their everyday
activities (walking & shopping) on their
own.
(2) train their memory.

Caregivers / family members / healthcare
providers to:
(1)track the patients' movements remotely
in terms of location and health conditions.
(2) receive alerts in case of emergency.
TECHNOLOGY USED

Mobile Application (Android)
installed on a tablet device.

Wearable devices:
biosensor bracelet: monitors the patient's
heart rate.

Bluetooth Low Energy Tags: used for
spatial identification in internal spaces and the hidden objects game
FLEX FUNCTIONALITY & FEATURES
5 MOST IMPORTANT MODULES OF FLEX

_ 01 ANDROID CLIENT
An application in the form of a launcher, so
that all functionality, apart from the one
provided within the app, is locked away from
the user, designed with simplicity as the basic
guideline. It communicates with the user
through the use of a friendly avatar (a simple
2D model).

_ 04 HIDDEN OBJECT GAME
Physical and mental exercise for the patient,
asking him/her to recover objects he/she has
hidden through the use of BLE tags. The tablet
will be able to sense the distance to each
object (using an algorithm that we have
develop that measures distance based on
signal strength) so if the patient recovers them
the avatar will reward him/her.
_ 02 SHOPPING/WALKING
ASSISTANT

the core module, which provides
assistance with the most essential needs of
the patient. It operates in one of two
modes: walking and shopping.


_ 05 MENTAL TRAINER
A set of games carefully categorized to
improve different cognitive functions.
_03 SOOTHING MEMORY TUNES
The patients' relatives can upload his/her favorite soothing
tunes, or a recording, e.g. their favorite grandchild
singing a song or reciting a poem. This is played automatically
either at predefined times of day, or in case of a
panic or anxiety attack (detected by an algorithm we
have developed, analyzing linear data in time, based on
the data from the wristband). If his/her condition doesn't
improve within a customizable time limit then the relative is
alerted.
If you're interested in FLEX please contact us and we can arrange a DEMO.